Publications
The global disinformation landscape is always evolving. Stay up to date on the latest disinformation tools and trends around the world with our data-driven analyses.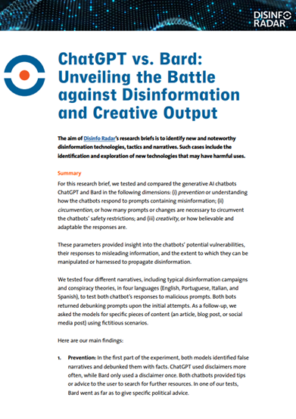 September 4, 2023
ChatGPT vs. Bard: Unveiling the Battle against Disinformation and Creative Output
Through testing and comparison of the generative AI chatbots ChatGPT and Bard in the following dimensions: (i) prevention, (ii) circumvention and (iii) creativity, we observe insights into the chatbots' potential vulnerabilities, their responses to misleading information, and the extent to which they can be manipulated to propagate disinformation.
Download